Each Sunday members will have the opportunity to worship as a community in person (8:00AM or 10:30AM) or online using Zoom/Facebook/YouTube (Online at 10:30AM ONLY):
Holy Eucharist on Zoom (10:30AM)
Video: https://us02web.zoom.us/j/4345492848 (copy and paste link)
Call in: 929-205-6099
Meeting ID: 434-549-2848#
St. Philip's Annual Crab Feast 10/10/20
 Instead of the sit-down fellowship we are all used to, this year we are having a drive-thru crab feast. Members and friends will drive into the parking lot, pick up crabs and enjoy them with family and friends at home.
The event is Saturday, October 10, 2020, where we will serve crabs from 1:00 PM- 5:00 PM. Tickets are $50.00 in advance for one dozen juicy crabs and two ears of corn. The price at the door will be $60.00. Tickets are available online through our Eventbrite link: http://drivebycrabfeast.eventbrite.com/
New DOV Intern September 27-February 7
St. Philip's Church welcomes our new DOV Intern, Mary Kelly from St. Martin's in the Field.
Tithing
Members and friends can send their tithes and contributions, either via mail 730 Bestgate Road Annapolis, MD 21401 or through online giving. If using online giving please go to our church website: https://stphilipsannapolis.org, then click on the "give a gift online" banner on any page and follow the prompts. Also you can go the Diocese of Maryland's website and find St. Philip's Church and give your offering there. (Fr. Callender, John P. & Melissa will be checking the mailbox daily to make sure that your offerings are collected)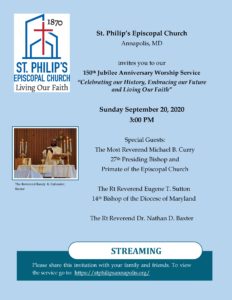 Anniversary Sunday: September 20, 2020 (Virtual Service)
St. Philip's Episcopal Church is celebrating our 150th Jubilee Celebration on Sunday, September 20, 2020 at 3:00PM. Our theme is "Celebrating our History, Embracing our Future and Living Our Faith." Guest Speaker: The Rt. Rev. Nathan D. Baxter.
Your $150 donations are still appreciated yet your name(s) will not be displayed on the 150th Anniversary Plaque.

Resources for Young Children:
Teaching Strategies has recently launched the Healthy at Home https://healthyathome.readyrosie.com/ family toolkit. The toolkit represents a comprehensive approach to provide educators and families with free resources to navigate school and program closures. Healthy at Home also provides a direct place for every family to access relevant, accurate, and easy to implement activities that meet the needs of diverse leaners. The Healthy at Home resources were designed by medical, mental health, and early childhood experts to provide support for families and schools.
ANNE ARUNDEL CONNECTING TOGETHER VIDEO
St. Philip's is a member organization of ACT, which helped launch the Feed Anne Arundel program in late March as a response to COVID-19.  Below is a link to a video of the program in action at Tyler Heights Elementary School in Annapolis.
Feed Anne Arundel has been giving away nutritious meals to people in need, helping restaurants stay afloat, and enabling employees to be paid. As a result, through donations, the program has pumped more than $100,000 into AACo's economy. The distribution lasts until the restaurant meals and other donated groceries run out.  Then cars are turned away.
Link here: https://vimeo.com/418355731/2861c3b8b4
Over the past couple months, ACT also has met via ZOOM with Annapolis and County officials regarding the equity gap relative to e-learning, food security, unemployment and other challenges now and ahead.  Several new teams are forming to tackle issues together with residents in communities also via ZOOM. If you would like to help with food distribution at the weekly drive-thru or donate to the program, you can click on this link: https://www.actiaf.org/feed-anne-arundel
ACT INVITING VOLUNTEERS FOR "new normal" TEAMS
Throughout COVID-19, Anne Arundel Connecting Together has continued to research, meet with people in communities, and with elected officials of Annapolis, Anne Arundel County, and Maryland.  ACT has continued to make progress toward improvement of lives.  All via ZOOM!  St. Philip's is an ACT member organization.  Below are new opportunities to work with members of other faiths and civic organizations around the county through ACT.  Please e-mail contacts below to get more information and/or join a team.
Stress and Coping
Fear and anxiety about COVID-19 can be overwhelming and cause strong emotions in adults and children. Taking care of yourself, your friends, and your family can help you cope with stress. Also, helping others cope with their stress can also make our community stronger. However, some of you may need one-on-one support to get through this pandemic. If you, or someone you care about, are feeling overwhelmed with emotions like sadness, depression, or anxiety, please contact Fr. Callender ASAP and he will help you with connecting with a counselor.
Free Radio Yogi Zoom Yoga Class
Stephanie Gaines-Bryant will be leading her chair yoga classes online via Zoom.com. The classes will be held on Tuesdays and Thursdays from 10:00 AM-10:30 AM and Saturdays at 8:30AM. It is a 30-minute class for senior citizens, anyone who has physical challenges, and for anyone who wants to keep moving. It is critical for our seniors to remain active during this time. Just 30 minutes twice a week will do wonders for your mental and physical well-being.
Tuesday Zoom Link
https://us04web.zoom.us/j/894338983?_ga=2.103034304.1167917774.1585660863-354439104.1584478241
Thursday Zoom Link
https://us04web.zoom.us/j/976449770?_ga=2.85495385.1167917774.1585660863-354439104.1584478241
Saturday Zoom Link
https://us02web.zoom.us/j/89405502929
Outreach and Feeding Ministries:
For outreach programs, particularly feeding ministries, keep in mind that no more than 10 people should be gathered at one time. Volunteers packing meals should be kept to a minimum and perhaps a schedule worked out for pick-up and drop-off of food. Meals should not be served at our churches, but should all be "to-go." Use your creativity and best judgment as you continue your outreach ministries with gatherings of fewer than 10 people and ask your vulnerable volunteers to stay home at this time. If you have questions, contact our canon for mission, the Rev. Chris McCloud at [email protected]
Diocese of Maryland Youth!
Join Kate Riley and your peers for games, check-ins, and prayers on Tuesdays and Thursdays from Noon-1:00 PM. Join the Online Youth Leadership Program on Tuesdays, 3:00 PM for Bible study, current events, leadership, games. Contact Kate Riley,
[email protected] to join these virtual gatherings.
"We must continue to move safely through this new stage and follow the instructions that our leaders are calling us to do as well: Wash your hands, isolate when needed, read the Bible, listen to soothing music, do not let the news build up your anxiety, and most importantly always pray."
Sunday Child Care
Child Care for infants and toddlers (up to the age of four) is available every week of the year during the 10:30 AM worship service. The Child Care area is located in Classroom #1 in the Family Life Center Building. Parents should escort their children to the classroom. We utilize a sign-in procedure and collect cell numbers, so we can notify you during the service if your child needs you for any reason. If you are new to the church, the Childcare Supervisor will be able to assist you in bringing your child/ren to the classroom and answer any questions you may have.
Sunday School
Sunday School is offered for our young people ages 5-17 years old during the academic year (September – June). We offer a wonderful program (Living the Good News), where our young people have an engaging opportunity for learning the Holy Scriptures.
Youth Group
St. Philip's Church has started a new Youth Group that will meet once a month on Saturdays for fun activities, events and trips. Please check out the full church and diocesan calendars located on the information table for upcoming events and dates.
Food Pantry Needs – Thank you for your past donations!
We ask that you remember our Food Pantry.  By giving as many canned goods (vegetables, meats, soups, fruit, peanut butter & jelly, cereals, etc.) as you are able, you are helping our community do more than just get by.  You may also make a monetary contribution & note on the memo line "Food Pantry".
Thank you for what you will do and have done to help us continue our ministry…we appreciate you!
Diocese of Maryland Legacy Society
~The Legacy Society is an opportunity for churches to recognize persons who have remembered their church in their will and estate plans. We encourage all parishes to establish a Legacy Society as a part of their development planning. We also have an All Saints Diocesan-wide Legacy Society which honors persons who have remembered either their parish or the Diocese at large in their will and estate plans. Your name is published in the Diocese of Maryland's convention booklet and you will be invited to a service and reception honoring each member this fall, where both Bishops will present you with a Diocesan Legacy Society Pin. If you are interested or want more information please see John Parham or Pat McGrath.
St. Philip's Mission Statement & Vision:
Vision Statement: St. Philip's Episcopal Church is an energetic, ever growing and increasingly mission focused Christian community that is highly visible in the Greater Annapolis area and Maryland Diocese.
Mission Statement: Our mission is to restore people to unity with God and each other in Christ by promoting Stewardship, Community Outreach, Diverse Worship Services, Church Growth and the Involvement of Youth and Young Adults in the development of a cross-generational church family.